LAGO GARDA


BEZIENSWAARDIGHEDEN / HIGHLIGHTS


Bezienswaardigheden / tips Gardameer 2022:

1) Sirmione: De bezienswaardigheid van de stad is voornamelijk het kasteel Rocca Scaligera, gebouwd door Mastino I della Scala (13de eeuw). Ook vind je hier de beroemde Grotte di Catullo, een Romeinse woning die in de 1ste eeuw v.C. en n.C. werd aangelegd. Dit archeologisch park is zeker een bezoek waard als je van de romeinse tijd houdt. (Raadpleeg de website voor de openingstijden). Ook bekend zijn de kuurbaden die het water uit de Boiola bron gebruiken, ontdekt in 1546.

2) Desenzano del Garda: Deze stad is ooit door Romeinen gesticht op een plaats waar waarschijnlijk al in de prehistorie een nederzetting lag. In de 15de eeuw kwam Desenzano in handen van Venetië en groeide uit tot de belangrijkste stad aan het meer. Het hart van het stadscentrum is de Paizza Malvezzi, waar elke maand een antiekmarkt wordt gehouden die befaamd is om zijn zilver en prenten. Elke dinsdagmorgen van 08.00 tot 13.00 uur staat er in heel Desenzano del Garda een grote markt waar je schoenen, tassen, kleding, groente, fruit, vlees, kaas en andere delicatessen kunt kopen.

3) Malcesine: Een van de meest fascinerende plaatsen aan het meer is Malcesine. De stad dankt zijn naam aan de ligging op een ontoegankelijke rots. Het 12de-eeuwse Castello werd in 1277 herbouwd door de Scaligeri's van Verona. Nu is hier het Museo di Storia Naturale del Garda e del Monte Baldo (natuurhistorisch museum) ingericht, waar je kunt zien hoe de Venetianen schepen naar Torbole vervoerden (1438-1440). Boven Malcesine verrijst de Monte Baldo (2218 m), met fraaie wandelpaden en een adembenemend uitzicht.

4) Peschiera del Garda: Van alle plaatsen aan het Gardameer heeft Peschiera nog het meest een militaire achtergrond. Deze stad is gebouwd waar de Mincio het meer in stroomt en wordt omgeven door grachten. Het oude stadje ligt op een eiland omgeven door een muur. In Peschiera ligt ook het 16de-eeuwse heiligdom van de Madonna del Frassino.

5) Gardaland: Dit pretpark werd in 1975 geopend en is een van de grootste pretparken van Italië. Gardaland telt 38 attracties, uiteenlopend van de achtbaan tot nagebouwde piramides, een oerwoud, het dolfinarium PalaBlù en een elfendorp, allemaal ideaal voor gezinnen met kinderen. Als het erg druk is, krijgen de bezoekers te horen hoe lang ze nog in de rij moeten staan.

6) Canevaworld: Als één pretpark niet voldoende is ligt er op 6 minuten rijden (4 km vanaf Gardaland) Canevaworld. Je kunt hier de illustere wereld van de Hollywoodfilms betreden, aan voorstellingen met filmset voor beroemde films deelnemen of ridders aanmoedigen tijdens een middeleeuws toernooi. Er is maar één plek in Italië waar dat allemaal kan en dat is Canevaworld, het pretpark in Lazise. Het park is in de jaren tachtig gebouwd en heeft vele verschillende attracties voor jong en oud.

7) Boottocht: Maak een boottochtje over het Gardameer. Er zijn diverse plekken in de haven van Sirmione waar je een veerpont kunt nemen of een bootje kunt huren. De villa's van miljonairs en beroemdheden zijn alleen vanaf het water te bewonderen.




Highlights / tips Lake Garda 2022:

1) Sirmione: The attraction of the town is mainly Rocca Scaligera castle, built by Mastino I della Scala (13th century). You will also find the famous Grotte di Catullo that was constructed, a Roman residence from the 1st century b.C. and a.C. This archaeological park is well worth a visit if you love Roman times. (Check the website for opening times). Also known are the spas that use the water from the Boiola fountain, discovered in 1546.

2) Desenzano del Garda: This city is founded by Romans in a place where probably a settlement was already created in prehistoric times. In the 15th century, Desenzano came in hands of Venice and grew to become the most important city on the lake. The heart of the city centre is Piazza Malvezzi, where an antique market is held and that is famous for its silver and prints every month. Every Tuesday morning from 08:00 to 13:00, there is a large market spread over whole Desenzano del Garda where your can buy shoes, bags, clothing, vegetable, fruit, meat, cheese and other delicacies.

3) Malcesine: One of the most fascinating places on the Lake is Malcesine. The city owes its name to its location on an inaccessible rock. The 12th-century Castello was rebuilt in 1277 by the Scaligeri of Verona. Here you will find the Museo di Storia Naturale del Garda e del Monte Baldo (natural history museum) where you can see how the Venetians were carrying ships to Torbole (1438-1440). Above Malcesine rises the Monte Baldo (2218 m) with beautiful hiking trails and breathtaking views.

4) Peschiera del Garda: Of all the places on Lake Garda, Peschiera has the most military background. This city is built where the Mincio flows into the lake and is surrounded by canals. The old town is located on an island surrounded by a wall. Also, in Peschiera you will find the 16th-century sanctuary of the Madonna del Frassino.

5) Gardaland: This amusement park opened in 1975 and is one of the largest theme parks in Italy. Gardaland has 38 rides, varying from the roller coaster to replica pyramids, the jungle, the dolphinarium PalaBlù and elves village all ideal for families with children. If it's really busy, visitors will hear how long they have to stand in line.

6) Canevaworld: If one themepark is not enough there is Canevaworld just a 6-minute drive (2,5 miles from Gardaland). You can enter the illustrious world of Hollywood movies, participate in a film set for famous films or encourage knights in a medieval tournament. There is only one place in Italy where this is possible and that is the amusement park Canevaworld in Lazise. The park was built in the eighties and has many different attractions for young and old.

7) Boat trip: Take a boat trip on Lake Garda. There are several places in the harbor of Sirmione where you can take a ferry or rent a boat. The villas of millionaires and celebrities can only be admired from the water.
___________________________________________________________________________________
SIRMIONE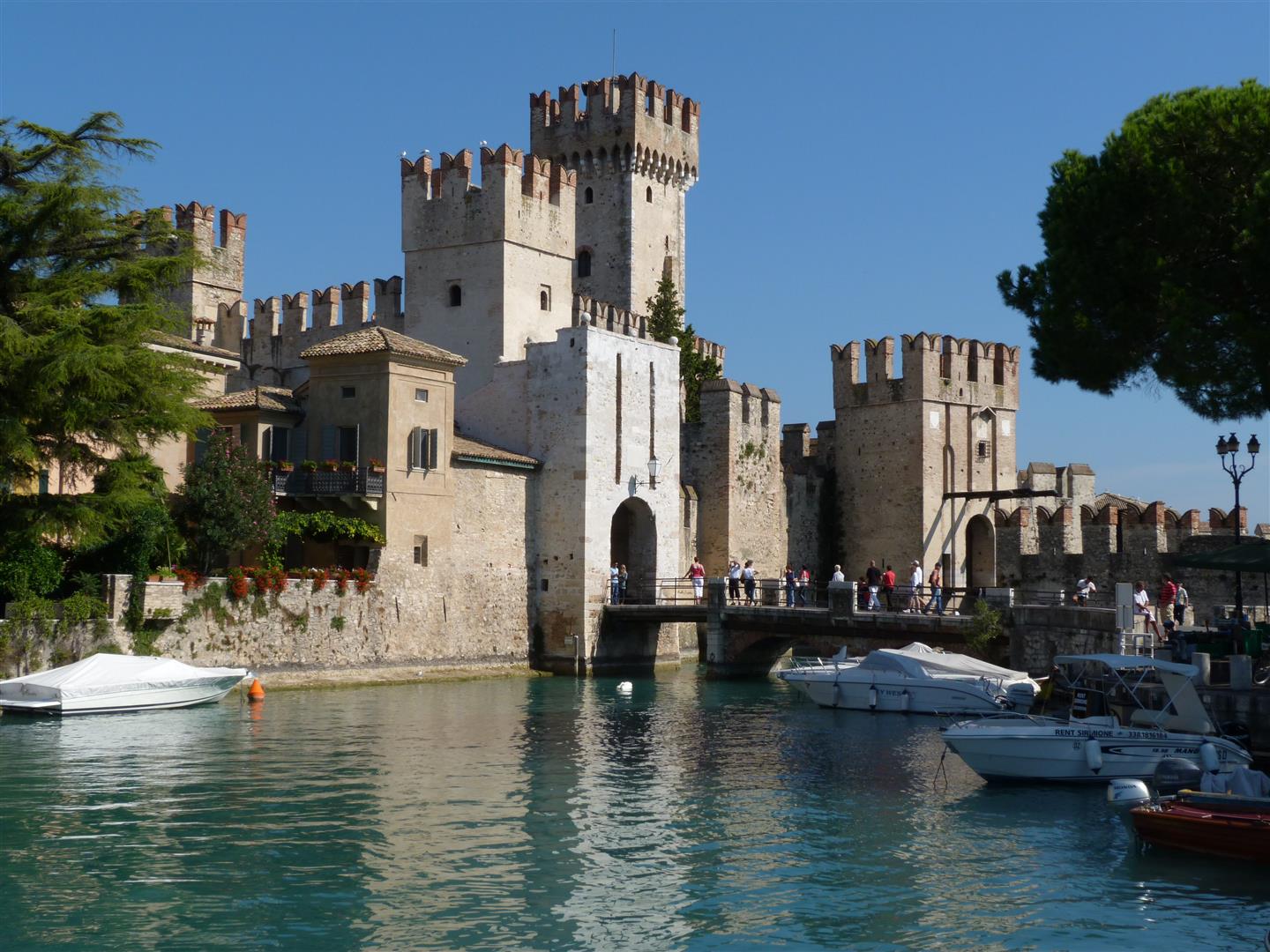 Aan het eind van een smalle landtong, ligt Sirmione, een van de meest romantische stadjes aan het Gardameer. Het stadje is alleen te bereiken via een voetgangers brug en is dus autovrij.
At the end of a narrow peninsula lays Sirmione, one of the most romantic towns on the shores of Lake Garda. The town is only accessible via a pedestrian bridge and free of cars.




Bij de ingang van de stad zien we het imposante waterslot van de Scaligeri. Het is een echt sprookjeskasteel met torens en kantelen en stamt uit de 13e eeuw.
At the entrance to the city, we find the impressive water slot of the Scaligeri. It's a real fairytale castle with towers and battlements and dates from the 13th century.




Zodra je over de ophaalbrug en door de poort van het kasteel loopt, zijn er verschillende open binnenplaatsen omgeven door hoge kasteelmuren.
Once you pass the drawbridge and through the castle gate, there are several open courtyards surrounded by high castel walls.




Binnen in het kasteel.

Inside the castle.




Het kasteel bleef ongewijzigd sinds de Middeleeuwen. Het originele kasteel is 1.000 jaar geleden in het jaar 934 gebouwd. Vervolgens, in 1300's zijn de kasteelmuren door de familie Scaligeri gebouwd.

The castle remains mostly unchanged since the medieval times. The original castle was built 1,000 years ago in the year 934. Then, in the 1300's the Scaligeri family built the castle walls.




Het stadscentrum bestaat uit een wirwar van smalle steegjes waar het heerlijk slenteren is langs de kleine winkeltjes en talrijke ijssalons met zalig Italiaans ijs. Uitzicht vanaf het kasteel op het plaatsje Sirmione.
The town centre consists of a warren of narrow alleys, where you can strolling along the numerous small shops, and ice cream shops with delicious Italian ice cream. View from the castle on the village of Sirmione.




De overblijfselen van een oud klooster dat gebouwd is tussen 760 en 772.

The remains of an old monastery which was built between 760 and 772.




Wereldberoemd zijn de geneeskrachtige bronnen van Sirmione. Het zwavelhoudende water is afkomstig uit de bron Font Bola, 18 meter onder de waterspiegel en wordt via een buizenstelsel naar de verschillende thermale baden vervoerd. De aanwezigheid van de bronnen zorgde voor een vroege ontwikkeling van het toerisme.
The sulphurous water source comes from the Font Bola, 18 meters below the surface and is transported to the different thermal baths ductwork. The presence of the sources provided an early development of tourisme.




De loop route naar het zuiden van het eiland is gedeeltelijk door het water en zeker de moeite waard.

The walking route to the south of the island is worth it and partly through the water.




Voorbij het stadje op de punt van het schiereiland ligt een fraai park waarin we de overblijfselen van een grote Romeinse villa ontdekken: de Grotti di Catullo.
Beyond the town on the tip of the peninsula, lies a beautiful park in which we discover the remains of a large Roman villa: the Grotti di Catullo.




De plek is vernoemd naar de Romeinse dichter Catullus, maar het is niet zeker of deze beroemde Romeinse dichter ook werkelijk deze villa bewoond heeft. Wel is zeker dat hij langere tijd in Sirmione heeft verbleven.
The place is named after the Roman poet Catullus, but it is not certain whether this famous Roman poet actually has lived in this villa. However, it is certain that he has stayed for a longer time in Sirmione.




Misschien heeft hij zich ook wel gebaad in het geneeskrachtige zwavelhoudende water dat uit de Fonte Botola0, die 18 meter onder de waterspiegel ligt, omhoog komt.
Maybe he also bathed in the healing sulfur water from the Fonte Botola, 18 meters below the water.


Prachtig uitzicht op het Gardemeer.

Beautiful view of lake Garda.
___________________________________________________________________________________

DESENZANO DEL GARDA


De populaire badplaats Desenzano del Garda bevindt zich aan de zuidkant van het Gardameer. Desenzano wordt ook wel als de hoofdstad van het Gardameer beschouwd.
The popular seaside resort of Desenzano del Garda is located on the South side of Lake Garda. Desenzano is also known as the capital of Lake Garda.




Het kerkje van Desenzano del Garda.

The church of Desenzano del Garda.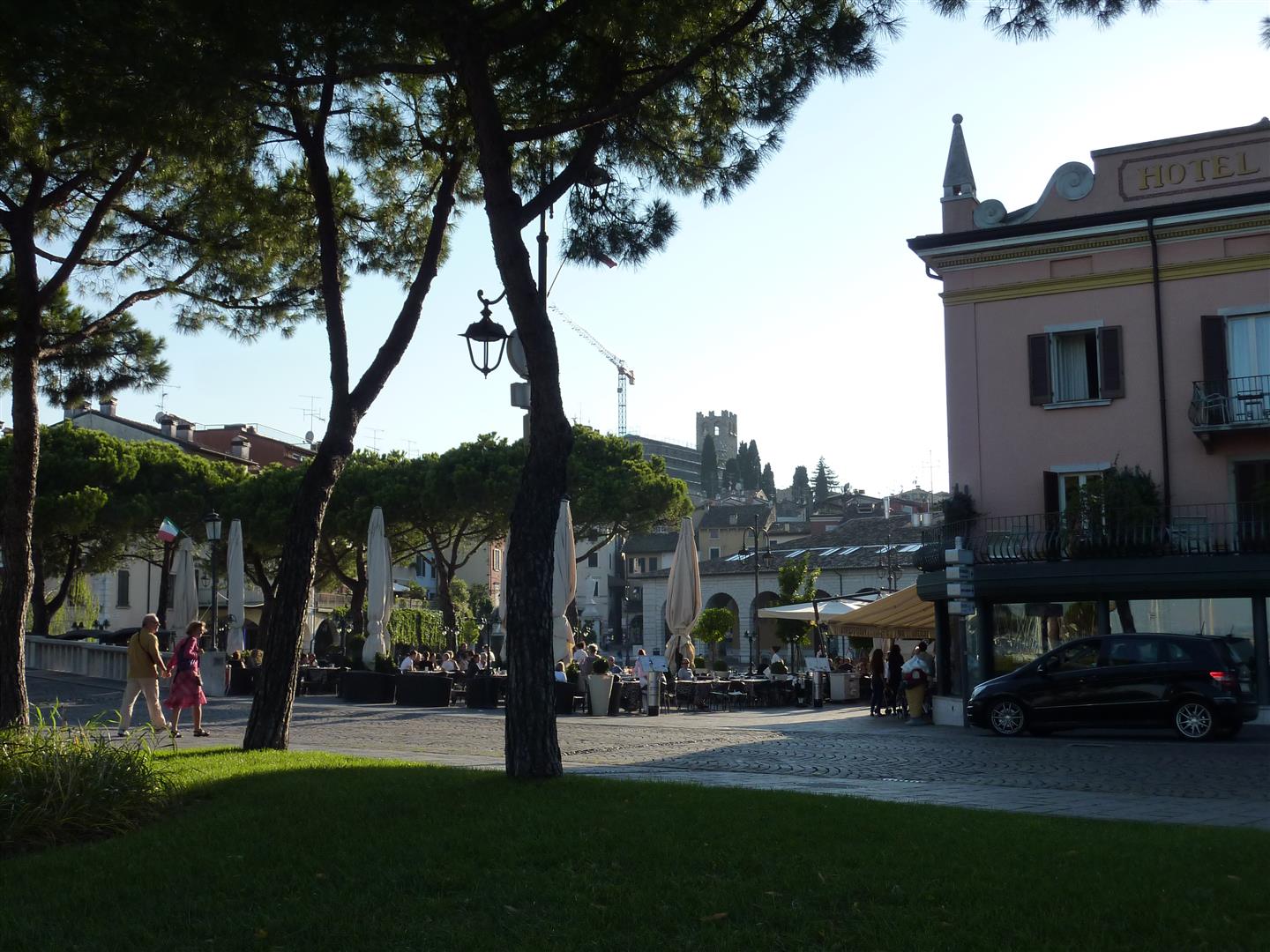 Het centrum van Desenzano bevindt zich bij Piazza Malvezzi en de oude haven, waar vele gezellige terrasjes en restaurants te vinden zijn. De achterliggende winkelstraten zijn autovrij.
The Centre of Desenzano is located near Piazza Malvezzi and the old port, with many cosy terraces and restaurants. The underlying shopping streets are car free.




De gezellige winkelstraten.

The charming shopping Streets.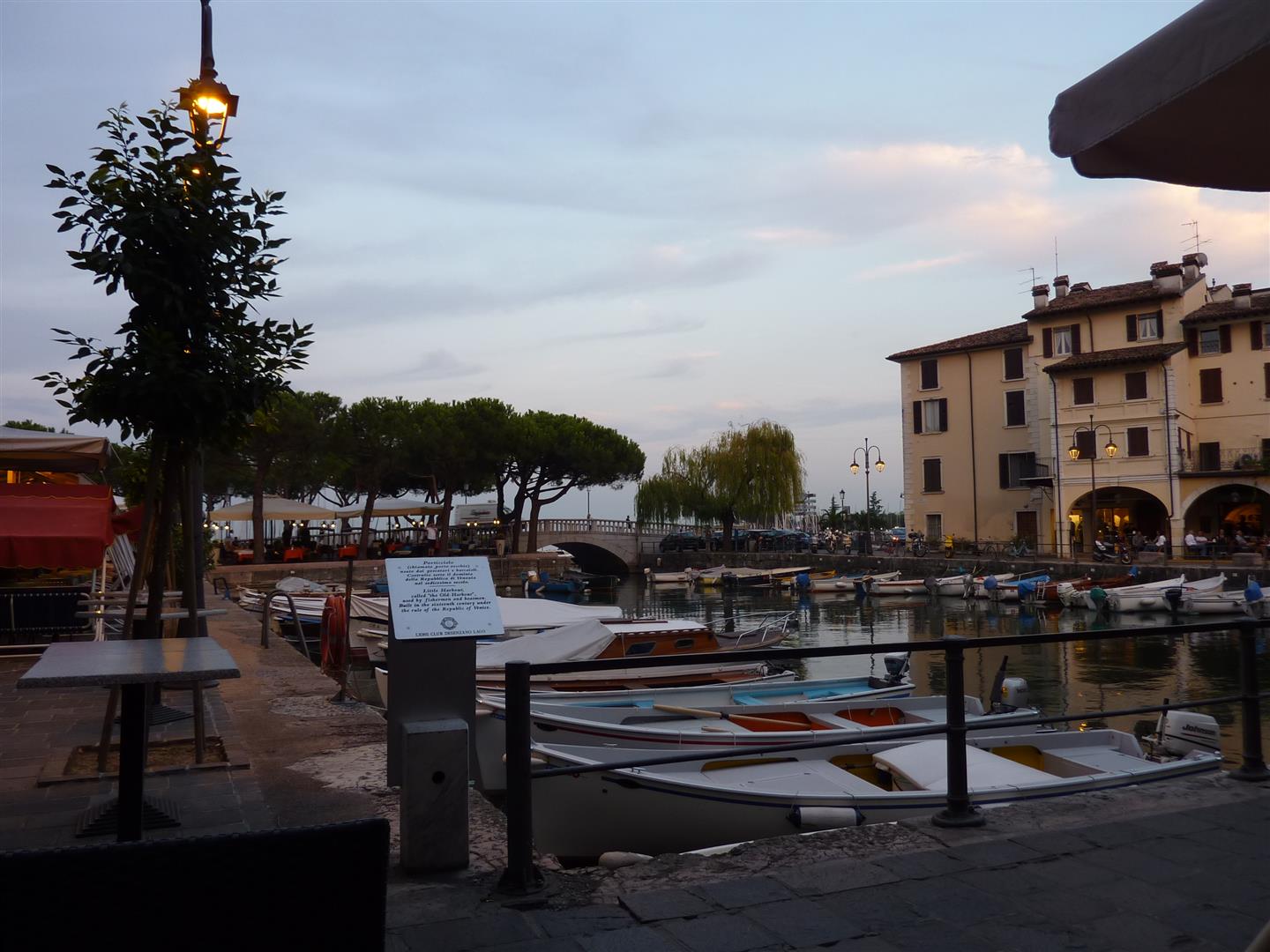 De laatste jaren heeft Desenzano zich meer en meer ontwikkeld tot het uitgaanscentrum van het Gardameer.
The last few years, Desenzano has become more and more developed to the entertainment center of Lake Garda.


Het haventje van Desenzano del Garda.

The harbor of Desenzano del Garda.
De boulevard.
___________________________________________________________________________________

PESCHIERA DEL GARDA




Peschiera del Garda is een levendig en druk bezocht stadje aan de zuidkant van het Gardameer. Het is een belangrijke havenstad en vestingstad en ligt slechts 20 minuten vanaf Desenzano en Sirmione.

Peschiera del Garda is a lively and busy town on the south side of Lake Garda. It is an important port and fortress and is only 20 minutes from Desenzano and Sirmione.




Het oude stadje ligt op een eiland omgeven door een stervormige muur.

The old town is situated on an island surrounded by a star-shaped wall.




De 2,3 km lange, vijfhoekige vesting werd in de 16e eeuw in opdracht van de Venetianen gebouwd en omsluit het prachtige centrum van het stadje.

The 2.3 km long, pentagonal fortress was built in the 16th century by the Venetians and encloses the beautiful town center.




Ten tijde van Napoleon en later onder de Oostenrijkers werden de vestingen nog verder versterkt.

At the time of Napoleon and later under the Austrians the fortresses were further reinforced.




Uitzicht op Peschiera del Garda vanuit het fort.

View of Peschiera del Garda from the fort.




Peschiera heeft gezellige winkel straatjes maar als je echt wilt winkelen raad ik je aan om naar Desenzano del Grada
te gaan want daar is het aanbod is iets groter.

Peschiera has cozy shopping areas but if you really want to shop I suggest to go to Desenzano del Grada because
there are more shopping areas.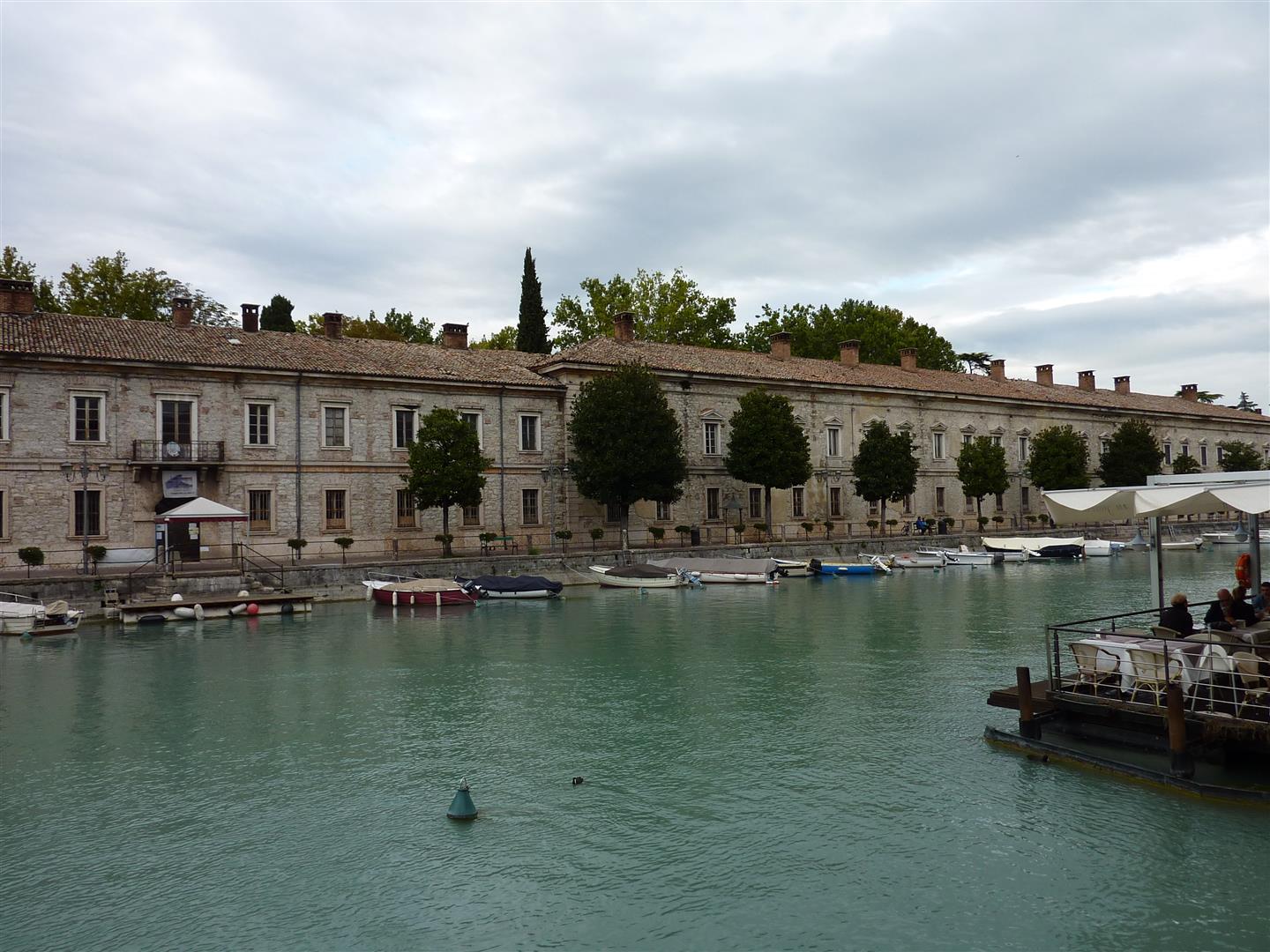 Peschiera heeft een gezellig centrum met terrasjes, romantisch uitzicht, veel bloemen, winkeltjes en restaurants.

Peschiera has a nice center with terraces, romantic vistas, lots of flowers, shops and restaurants.




De wandelpromenade langs het Garda meer.

The promenade along Lake Garda.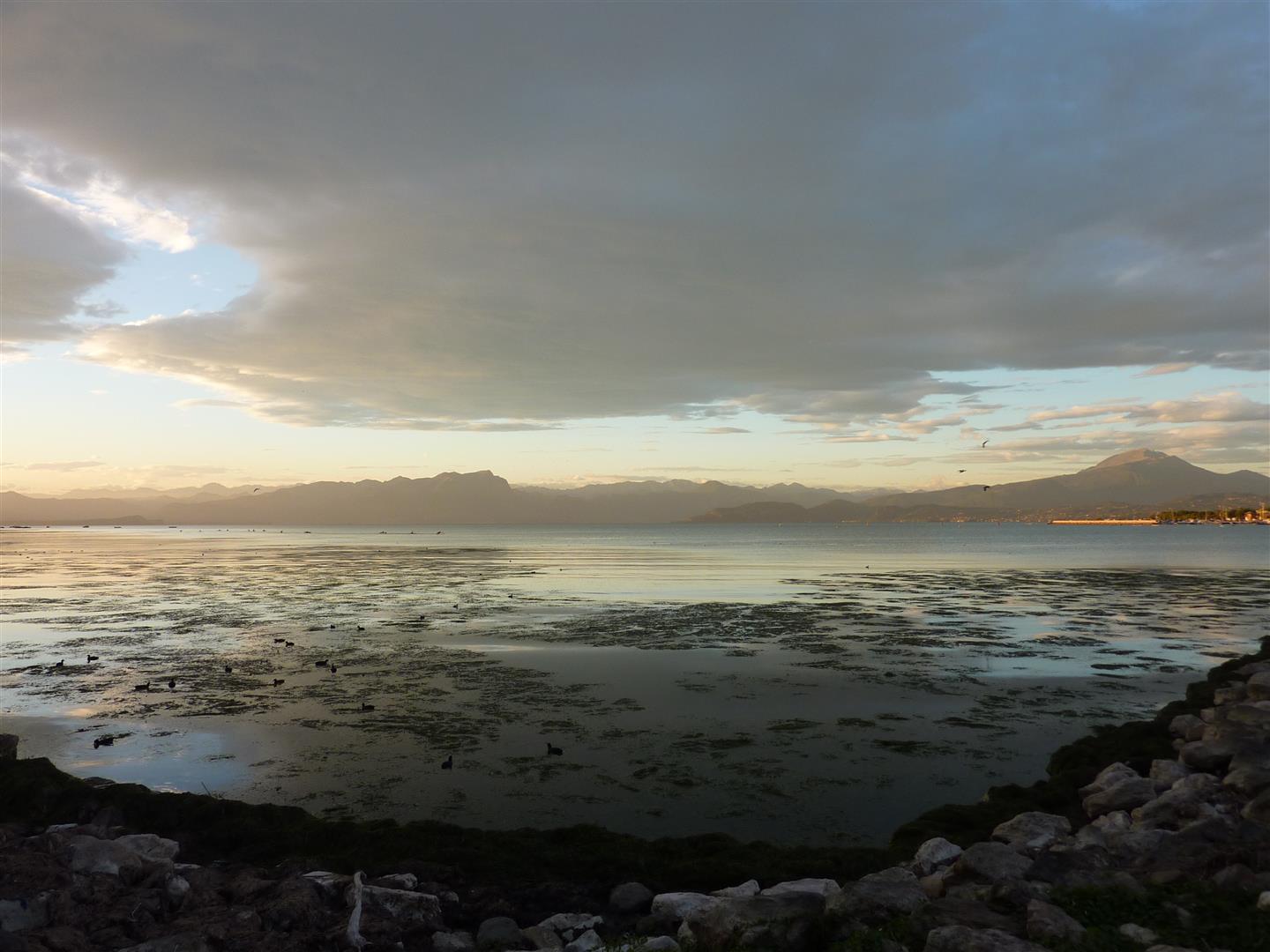 Prachtige zonsondergang bij het Garda meer.

Beautiful sunset at lake Garda.


@MK