COPENHAGEN
BEZIENSWAARDIGHEDEN / HIGHLIGHTS


Bezienswaardigheden / tips Kopenhagen 2022:

1)
Nyhavn
: Aan de kade van dit zijkanaal vind je gekleurde huisjes, boten en vooral veel terrasjes en heel veel gezelligheid. Ideaal om wat te drinken en mensen te bekijken. Kopenhagen is ideaal voor een boottochtje door de grachten. Tours met gidsen vertrekken vanaf Nyhavn en duren ongeveer vijftig minuten. Er zijn vele
aanbieders
maar de meest bekende boottocht is de Grand Tour of Copenhagen (vergelijkbaar met de Amsterdams rondvaart boot). Als je een Copenhagen kaart hebt is de tocht gratis anders betaal je per volwassen 99,00 DKK (omgerekend 13,30 Euro).

2)
Tivoli
: Tivoli is een uniek uit 1843 stammend amusementspark. De kermisattracties zijn eigenlijk maar een klein onderdeel van het aanbod in dit veel bezochte park. Het accent ligt veel meer op cultureel vermaak. Beroemd is het pantomimetheater met een uit uitwaaierende pauweveren bestaand toneeldoek. Daarnaast heeft Tivoli tal van restaurants, een concertzaal, twee theaters, een openluchttheater, kinderspeelgelegenheden, een beeldschoon aangelegd wandelpark met fonteinen. Uiteraard heb je een entree kaartje nodig waarvan de prijs varieert per seizoen en dag.

3)
Rosenborg Castle
: Rosenborg castle is zeer interessant. Dit door een mooi park omgeven Staatsslot is in typerende Hollandse renaissancestijl gebouwd. Het is het koninklijke familiemuseum met een prachtige en unieke verzameling porselein, zilver, glas en schilderijen. Als toeristische attractie mag men ook niet vergeten de kluis in de kelder met de kroonjuwelen te bekijken. Hou er rekening mee dat tassen niet mee naar binnen genomen mogen worden!

4)
Den lille havfrue
: Wanneer men het centrum uitwandelt over de boulevard de Langelinie (in noordelijke richting), kom je langs "den lille havfrue" het op Andersen's sprookje geïnspireerde beeldje van de kleine zeemeermin. Ze zit op een rots in de Sont en is van alle Deense beeldjes wel het beroemdst en in ieder geval het meest gefotografeerd.

5)
Ny Carlsberg Glyptotek
: Dit kunstmuseum is gesticht door de bekende bierbrouwer Carl Jacobsen (1842-1914). Het museum ligt tegenover Tivoli. De collectie van de Oudheid is de grootste in Noord-Europa en concentreert zich sterk op beeldhouwwerk. Naast vele indrukwekkende Egyptische, Griekse en Romeinse artefacten kun je hier ook een mooie selectie van franse impressionisten bewonderen. De binnentuin is ook zeer indrukwekkend. Een ticket voor een volwassen kost 115 DKK (15,50 Euro) de openingstijden variëren.

6)
Kopenhagen Kaart
: De Kopenhagen kaart (op de website te bestellen) kan een uitkomst zijn als je vele bezienswaardigheden wilt bezoeken. De voordelen zijn dat je met deze kaart gratis toegang hebt tot 73 attracties, je nooit in de rij hoeft te staan en gebruik kan maken van het openbaar vervoer. Ook heb je korting op vele restaurants. Het nadeel is dat deze kaart behoorlijk duur kan zijn als je op een dag te weinig bezienswaardigheden bezoekt. Dus reken uit wat voor jou haalbaar is.

7)
Dyrehavsbakken
:
In de noordelijke wijk van Kopenhagen ligt Dyrehavn, waar zich het grote pretpark / amusementscentrum Dyrehavsbakken
bevindt (de Denen noemen dit park Bakken). Dit oudste pretpark van Europa is net als Tivoli erg populair bij de Deense bevolking. Het is echter goedkoper door het ontbreken van entreeprijzen (gratis toegang). In tegenstelling tot Tivoli is dit wel een echte kermis, met heel veel gokkasten.




Highlights / tips Copenhagen 2022:

1)

Nyhavn

: On the quayside of this channel you will find colored houses, boats and especially many terraces with lots of cosiness.

Ideal for drinking and watching people

.

Copenhagen is ideal for a boat trip through the canals

.

Guided tours depart from Nyhavn and last for about fifty minutes

.

There are many
providers
but the most famous boat trip is the Grand Tour of Copenhagen (comparable to the Amsterdam canal boat).

If you have a Copenhagen card the journey is free of charge otherwise you will pay 99,00 DKK per adult (converted 13,30 Euro or 16,30 USD).



2)
Tivoli
: Tivoli is a unique amusement park dating from 1843

.

The amusement rides are just a small part of the offer in this popular park

.

The emphasis is much more on cultural entertainment

. Famous is the pantomime theater with its flared out peacock feathers theater cloth.

In addition, Tivoli has a lot of restaurants, a concert hall, two theaters, an open-air theater, children's playgrounds and a beautifully landscaped hiking park with fountains

.

Obviously you need a ticket whose price varies by season and day

.

3)
Rosenborg Castle
:

Rosenborg castle is very interesting

.

This stately castle surrounded by a beautiful park was built in typical Dutch Renaissance style

.

It is the royal family museum with a beautiful and unique collection of porcelain, silver, glass and paintings

.

As a tourist attraction, do not forget to watch the vault in the cellar with the crown jewels.

Please note that bags can not be taken in

side the castle!

4)
The Little Mermaid
:

When you walk through the center along the Boulevard de Langelinie (in the north), you will find the statue the little mermaid inspired by Andersen's fairy-tale

. She sits on a rock in the Sont and is the most famous and most photographic of all Danish statues.

5)

Ny Carlsberg Glyptotek

: This art museum was founded by the famous beer brewer Carl Jacobsen (1842-1914

).

The museum is located opposite Tivoli

. The collection of Antiquity is the largest in northern Europe and focuses strongly on sculpture. In addition to many impressive Egyptian, Greek and Roman artifacts you can also admire a beautiful selection of French impressionists.

The courtyard is also very impressive.

A ticket for an adult costs 115 DKK (15,50 Euro or 17,50 USD) opening hours vary

.

6)
Copenhagen Card
: The Copenhagen Card (can be ordered on the website) can be used if you want to visit many attractions.

The advantages of this card, you have free access to 73 attractions you never have to stand in line and you can also use public transportation.

You also have discounts on many restaurants.

The downside is that this card can be quite expensive if you visit too few sights on a day.

So figure out what's feasible for you

.

7)
Dyrehavsbakken
:
In the northern district of Copenhagen lies Dyrehavn, where the big theme park / entertainment center of Dyrehavsbakken
is located (

The Danes call this park Bakken

).

The oldest amusement park in Europe is like Tivoli very popular among the Danish population

. However, it is cheaper due to the lack of entry prices (free entrance).

Unlike Tivoli, this is a real fairground, with lots of slots

.


Wie Kopenhagen bezoekt zal het vooral opvallen dat voor een relatief grote stad niet zo druk en chaotisch is als je zou verwachten. De sfeer is overwegend vrij relaxed, soms bijna dorps. De charme van Kopenhagen zit hem vooral in de mensen en de combinatie van mooie straten met een mengelmoes van oude vakwerkhuizen, statige winkelpanden, prachtige oude gebouwen en moderne architectuur.
Who will visit Copenhagen, it is noticeable for a relatively large city that it is not as crowded and chaotic as you might expect. The atmosphere is mostly pretty relaxed sometimes almost village. The charm of Copenhagen is primarily in the people and the combination of beautiful streets with a mix of old timbered houses, stately shops, beautiful old buildings and modern architect.
Eén van de meest sfeervolle plekjes van Kopenhagen is Nyhavn, een klein haventje met huizen in veel verschillende kleuren. Nyhavn is vooral op zonnige lente- en zomerdagen de hotspot van de stad, waar mensen komen om te eten en te drinken.
One of the most charming places in Copenhagen is Nyhavn, a small harbor with houses in many different colors. Nyhavn is particularly on sunny spring and summer days the hot spot of the city where people come to eat and drink.


Nog steeds is het de plek om uit te gaan, hoewel het publiek nu bestaat uit locals en toeristen in plaats van stoere matrozen. Wie voor lunch of diner wil genieten van verse vis en schaaldieren die zal hier op de drukke terrassen zeker kunnen slagen.
It is still the place to go although the audience now consists of locals and tourists instead of sturdy sailors. Anyone who wants to enjoy lunch, dinner or fresh seafood that will come to the crowded terraces will certainly succeed.
Tevens is het haventje het opstappunt van de rondvaartboten die langs en door Kopenhagen varen.
It is also the pick-up point of the harbor tour boats that passes through Copenhagen.
Met al die fietsen, terrasjes en grachten lijkt Kopenhagen opvallend veel op Amsterdam. Maar dan kleiner en rustiger, meer als een provinciestad. De Deense hoofdstad heeft een mooi oud stadscentum en bijzonder vriendelijke inwoners.

With all the bikes, terraces and canals Copenhagen is similar to Amsterdam. But then smaller and quieter, more like a provincial city. The Danish capital has a beautiful old city center and very friendly residents.




Amalienborg in Kopenhagen is de residentie van de Deense vorstin Margaretha II van Denemarken. De gebouwen dateren van omstreeks 1750. Sinds 1794 wordt het paleis gebruikt als koninklijke residentie.
Amalienborg in Copenhagen is the residence of the Danish Queen Margrethe II of Denmark. The buildings date from around 1750. Since 1794, the palace is used as a royal residence.
De paleiswachten.
The palace guards.




Christiansborg Slot is een paleis op het eiland Slotsholmen in het centrum van Kopenhagen.

Christiansborg Slot is a palace on the island Slotsholmen in central Copenhagen.


Het schip van de koninklijke familie.
The ship of the royal family.


Een rondvaart met de boot is echt een aanrader. Net zoals in Amsterdam is het leuk om Kopenhagen vanaf
het water te bezichtigen.
A sightseeing tour from the boat is highly recommended. As in Amsterdam, it's nice to see Copenhagen from
the water.
Woonboten en pakhuizen. Komt dit bekend voor?
Houseboats and warehouses. Does this sound familiar?


De barokke Vor Frelsers Kirke werd in 1696 gebouwd in opdracht van Koning Christian V. De toren met zijn gouden en koperen piek, die 90 meter boven de stad uitsteekt en 400 treden telt is het opvallendste element van de kerk. De wenteltrap draait eigenlijk de verkeerde richting uit. Volgens de legende heeft de architect, nadat hij de toren beklom en zijn vergissing merkte, zelfmoord gepleegd door van de toren te springen.
The baroque Vor Frelsers Kirke was built in 1696 by King Christian V. The tower, with its gold and copper peak, which is 90 meters above the town and has 400 steps, the most striking element of the church. The spiral staircase actually runs into the wrong direction. According to legend, the architect committed suicide by jumping from the tower after he climbed the tower and noticed his mistake.


Mogelijk de grootste toeristische trekpleister van Kopenhaven is het beeld van de kleine zeemeermin ( Den lille Havfrue), gebaseerd op het gelijknamige sprookje van de Deense schrijver Hans Christian Andersen. Als je het beeld bezoekt dan zal het opvallen dat het in omvang zo klein is dat je je afvraagt waarom mensen in hemelsnaam de moeite nemen om de wandeltocht naar het beeld te maken. Nog vreemder is om te zien hoe volwassen mannen en vrouwen in de rij staan om met het beeld op de foto te kunnen gaan.
Perhaps the biggest tourist attraction of Copenhagen is the image of the Little Mermaid ( Den lille Havfrue) based on the eponymous fairy tale by the Danish writer Hans Christian Andersen. If you visit the Little Mermaid you will notice that the size is so small that you wonder why people take the trouble to walk to the Mermaid. Even stranger to see how grown men and women standing in line to have a photo with the Little Mermaid.


Het Kastellet is een vestingwerk in Kopenhagen. Het is aangelegd in de vorm van een vijfhoek met vijf bastions wat op het eerste gezicht niet meteen te zien is. Het Kastellet vormt een militair terrein, een cultureel-historisch monument, een museum en een park, dat veel Kopenhagenaars gebruiken voor wandelingen.
The Kastellet is a fortress in Copenhagen. It was built in the shape of a pentagon with five bastions that wasn't
immediately visible at first glance. The Kastellet is a military area a cultural-historical monument a museum and a park many Copenhagen residents use this area to walk.



Een Anglicaanse kerk in de Kastellet.
An Anglican church in the Kastellet.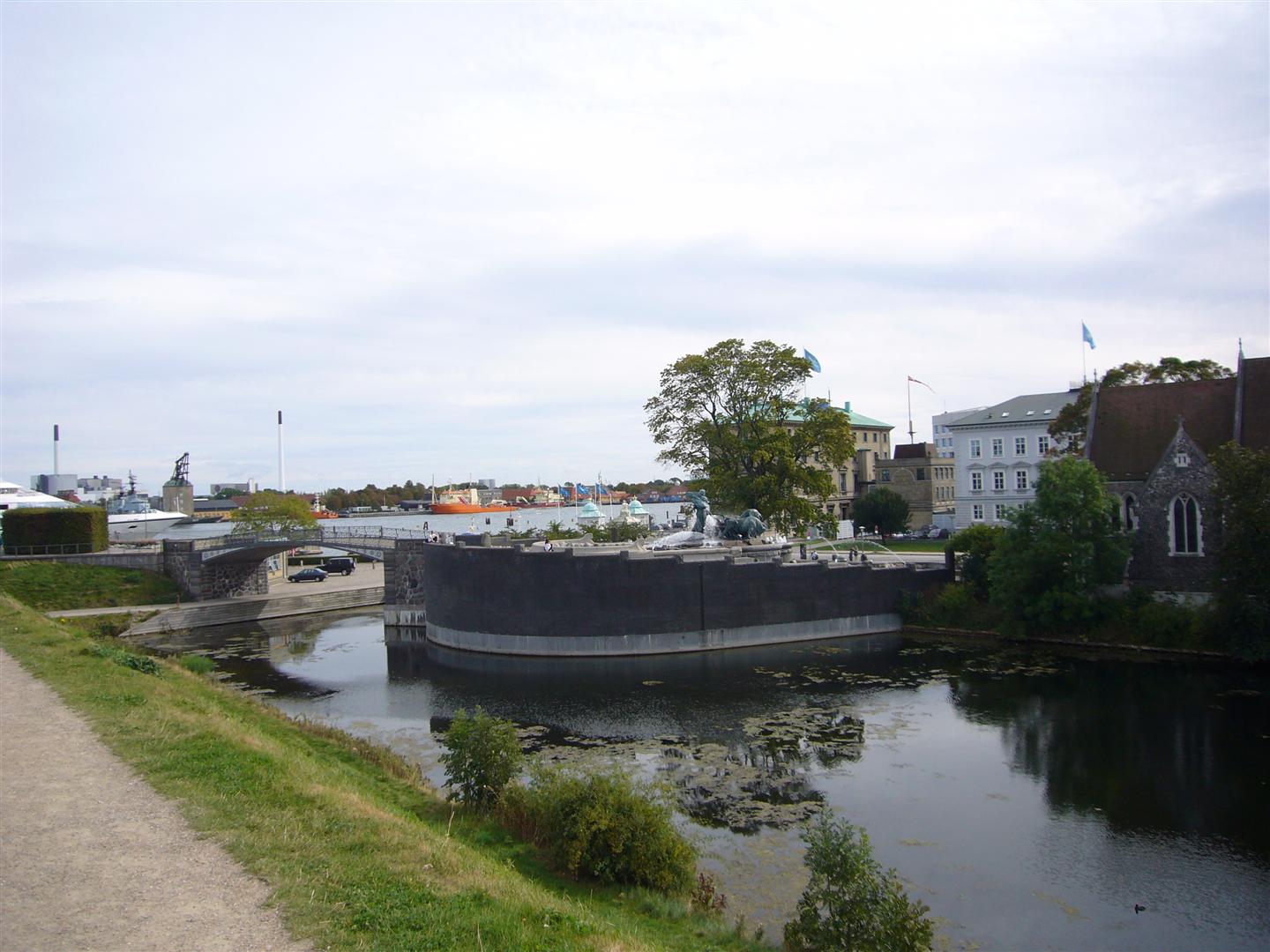 De Gefionfontein is een grote fontein in de haven. De fontein stelt een grote groep dieren voor die voortgedreven worden door de Noorse godin Gefion. Er wordt verteld dat de fontein je wensen vervult als je er een muntje in gooit.
The Gefionfontein is a large fountain in the harbor. The fountain represents a large group of animals that are driven by the Norwegian goddess Gefion. It is said that if you throw a coin in the fountain it fulfill your wishes.


@MK