BELÉM




Bezienswaardigheden / tips Belém 2021:

1)
Torre de Belém
:
De Torre de Belém uit 1515 is een landmark van Lissabon. Oorspronkelijk stond de toren in manuelstijl op een eilandje in de Taag om zijn monding te verdedigen. Door landuitbreidingen is de toren nu met het vasteland verbonden. De entree is 5 euro per persoon maar als je een Lisboa Card koopt mag je met deze kaart gratis naar binnen. Je kunt ook de kaartjes
online
bestellen voor 6 euro per persoon dan hoef je niet in een rij te wachten. De openingstijden verschillen per seizoen.

2)
M
osteiro dos Jerónimos
: Het klooster
M
osteiro dos Jerónimos uit de 16e eeuw is een waar meesterwerk in de manuelstijl. Vooral de ornamenten, goed te zien in het hoge zuidportaal en de kloostergang, zijn indrukwekkend. Ook de binnenplaats met de rustige gangen en de leeuwenfontein in het midden is een bezoekje waard. De entree is 10,00 EURO per persoon en op de eerste zondag van de maand is de toegang gratis. De openingstijden zijn van 10.00 tot 18.00 uur in het hoogseizoen (oktober t/m april tot 17.00).

3)

Padrão dos Descobrimentos

: In 1960 werd het gigantische beeld Padrão dos Descobrimentos gebouwd. Je ziet hier Hendrik de Zeevaarder met belangrijke Portugese kunstenaars, missionarissen en matrozen. Het beeld, met figuren van wel negen meter hoog. Je kunt met een lift naar een hoogte van 52 meter, vanwaar je een goed zicht hebt op de wereldkaart voor het monument. Die geeft aan wat de Portugese ontdekkingen en bezittingen zijn geweest. De toegangsprijs is 6,00 EURO per persoon en de openingstijden verschillen per seizoen.




Highlights / tips Belém 2021:

1)
Torre de Belém
:
The Torre de Bélem is a landmark
of Lisbon from 1515.

Originally, the

tower

stood in

manuel

style

on a small island

in the Tagus

to defend its

mouth

.

Through

land

expansion

the

tower

is now connected to

the Mainland.

The entrance fee

is 5 euros per

person

but if you buy

a

Lisboa Card

you can

get into the tower for free.

You

can also

buy

tickets
online
for 6 euros

per person

the benefit is that you do not have to stand in line

.

The

Opening hours vary

per season.

2)
Mosteiro dos
Jeronimos
:
Mosteiro dos Jeronimos from
the

16th century

is a masterpiece

in

the

manuel

style.

Especially

the

ornaments

,

clearly visible

in the upper

south portal

and

the

cloister

are impressive.

The

courtyard

with the quiet

corridors and

lion

fountain in the middle

is worth it.

The entrance fee is

10.00

Euro

($ 12.00)

per person

and on the first

Sunday of the month

the

admission is free

.

Opening hours are from

10:00 to 18:00

in the high season

(October

till

April to

17.00).

3) Padrão dos Descobrimentos:

In 1960, the

giant

image

Padrao dos

Descobrimentos

was built

. On the statue y

ou can see

Henry the Navigator

with major

Portuguese artists

, missionaries

and sailors.

The statue

,

with

figures are

up to nine

meters high.

You

can use

a lift to a

height of 52

meters

,

where you have a

clear view

on the world map

for the monument

.

Which

indicates what

the Portuguese discoveries

and

possessions

have been.

The entrance fee is

6.00

Euro

($ 7.00)

per person

and

hours vary by

season

.


Aan de monding van de Taag, waar de karvelen hun ontdekkingsreizen begonnen, ligt de wijk Belém, die onlosmakelijk is verbonden met de Portugese gouden eeuw. Toen Manuel I in 1495 aan de macht kwam, profiteerde hij van de opbrengsten uit de Portugese expansiedrift. Er verrezen kerken en monumenten die het tijdsdeel weerspiegelden. De uitbundige, exotische manuelstijl is terug te zien in het Mosteiro dos Jerónimos en de Torre de Belém. Inmiddels is Belém een ruime, groene wijk met veel musea, parken en tuinen. Aan de rivierpromenade liggen gezellige cafés. Op zonnige dagen heerst in Belém de sfeer van een badplaats. Tegenwoordig wordt de schilderachtige rivieroever van Belém gescheiden door de drukke Avenida da India.



At the mouth

of the Tagus

where

the Belém district is located,

the caravels

began their

expeditions

which

is inseparably linked

with the Portuguese

golden

century.
In 1495, when
Manuel I
took power
he
benefits from the
proceeds of
the Portuguese
expansionism. Churches and monuments risen that reflect the time slot. The exuberant, exotic manuel style is reflected in the Jeronimos Monastery and the Tower of Belém. Meanwhile Belém is a large green area with many museums, parks and gardens. On the riverwalk you will find many cozy cafes. In Belém the atmosphere of a seaside resort prevails on sunny days. Nowadays the scenic shore of Belém is separated by the busy Avenida da India.
De
Torre de Belém
werd tussen 1515 en 1521 in opdracht van Manuel I als fort gebouwd midden op de Taag. De bouw van de toren was het beginpunt van van de zeehelden die de handelsroutes verkenden, werd het symbool van de expansiedrift van Portugal. De zuilen zijn fraai versierd, er zijn opengewerkte balkons en wachttorens in Moorse stijl. Onder het terras lag de opslagruimte voor wapens en het was eens een gevangenis.



In order of Manuel I, the
Torre
de Belém
was built between
1515
and 1521
as a fortress
in the middle of
the Tagus
.
The construction of the
tower
was
the starting point of
the
trade routes explored by the sea heroes who became the symbol of the expansionism of Portugal. The pillars are beautifully decorated, there are openwork balconies and watchtowers in Moorish style. Under the terrace was a prison and a storage room for weapons.


Naast de Torre de Belém staat het
monumento aos Combatentes do Ultramar

.
Dit monument is gemaakt ter nagedachtenis aan de strijders overzee.

Next to the Torre de Belém you will find the
monumento aos Combatentes do Ultramar
.
This monument was designed in memory of the fighters overseas.




Het

Monument to the Discoveries
staat vlak aan het water en is in 1960 gebouwd ter ere van de 500ste verjaardag van de dood van Hendrik de Zeevaarder. Het 52 m hoge
monument
, herinnert aan de zeelieden, ontdekkers en alle anderen die bijdroegen aan de snelle ontwikkeling tijdens het Portugese tijdperk van de ontdekkingen.

The
Monument to the Discoveries
is next to the water and was built in 1960 in honor of the 500th anniversary of the death of Henry the Navigator. The 52 m high
monument
, reminds of the sailors, explorers and all others who contributed to the rapid development during the Portuguese age of discoveries.




De

Praca do Império

is een fraai plein dat voor het klooster ligt en is bij speciale gelegenheden verlicht door kleurige lichtjes in de
fontein
.

The
Praca do Império
is a beautiful square in front of the monastery and the
fountain
lit on by coloured lights by special occasions.




Het klooster
Mosteiro dos Jerónimos
is een monument dat de rijkdom van het tijdperk van de ontdekkingsreizen weerspiegelt en is het hoogtepunt van de Manuel architectuur.

The cloister

Mosteiro dos Jerónimos

is a monument that reflects the wealth of the era of voyages of discovery and is the highlight of the Manual architecture.




Binnen in het klooster Mosteiro dos Jerónimos.

Inside the cloister Mosteiro dos Jerónimos.




Manuel I gaf rond 1501, vlak na Vasco da Gama's terugkeer van zijn ontdekkingsreis, opdracht tot de bouw, die met pepergeld werd bekostigd.

Just after Vasco da Gama's return from his voyage of discovery, Manual I gave around 1501 instructions to build the cloister, which was funded with pepper money.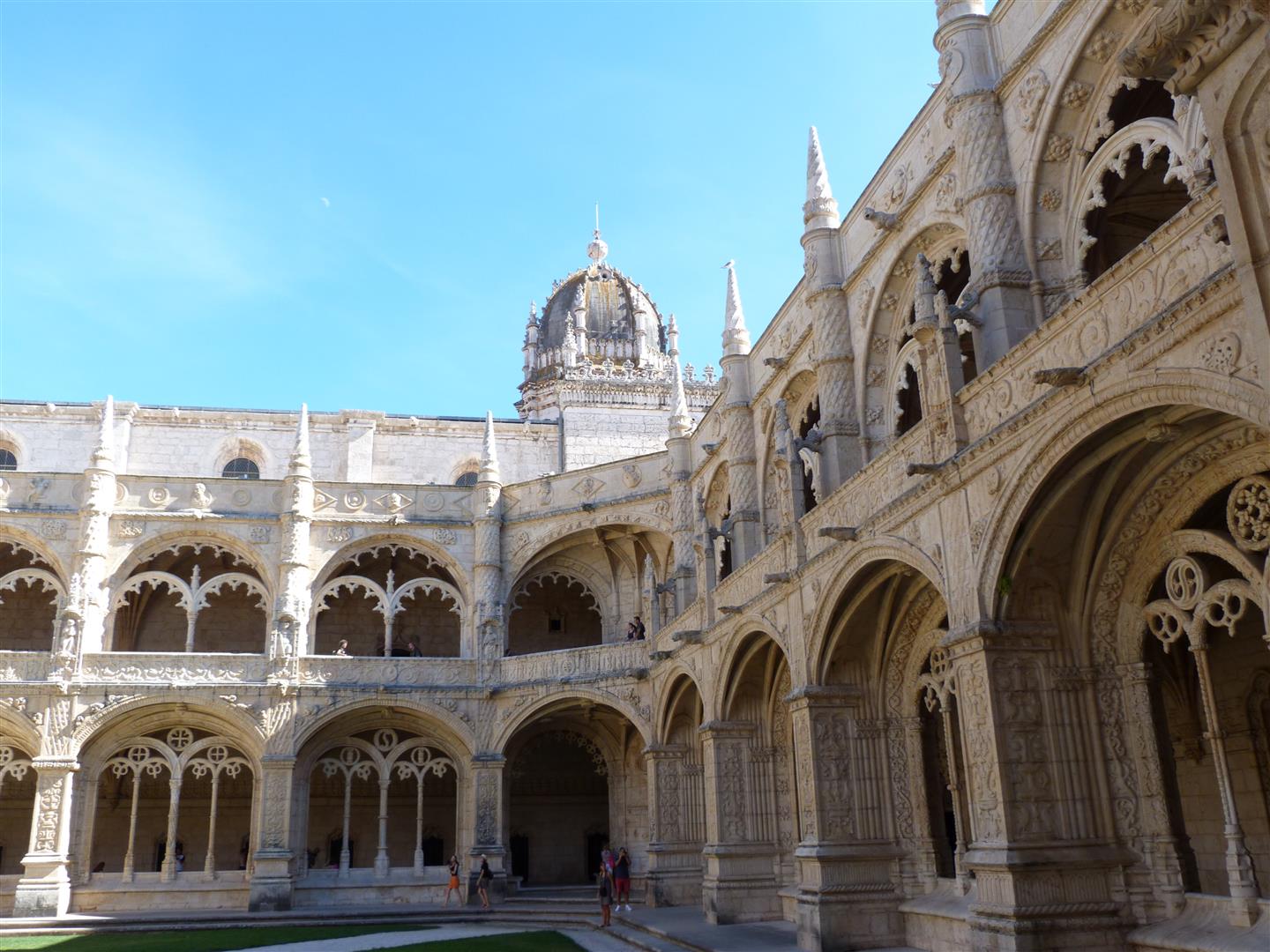 De bouw in manuelstijl door Joao de Castilho werd voltooid in 1544. De bogen en balustraden zijn versierd met verfijnd maaswerk.

The construction in manual style by Joao de Castilho was completed in 1544. The arches and balustrades are decorated with fine tracery.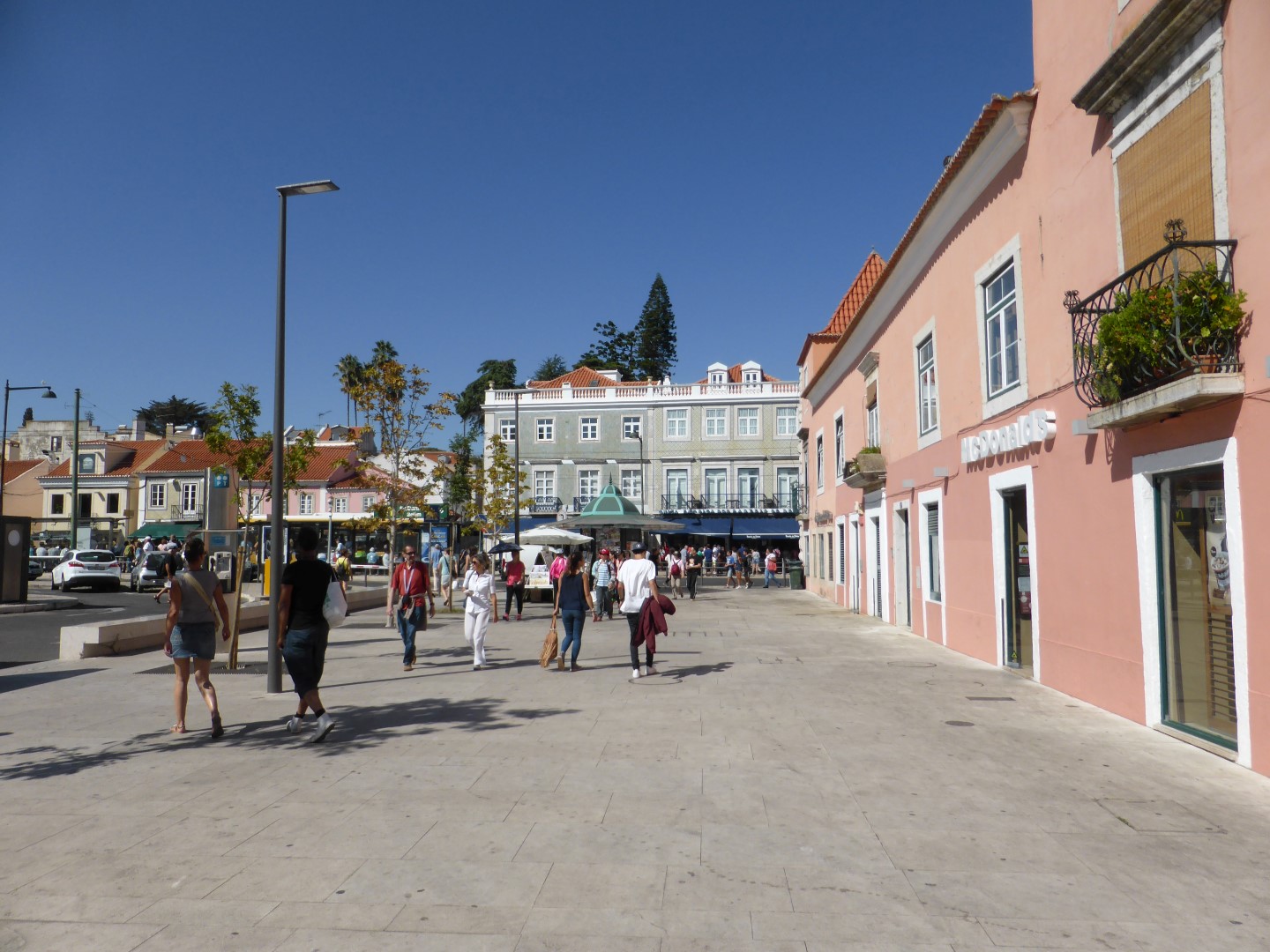 Aan de overkant van de Avenida da India ligt een leuke gezellige wijk aan de
Rua Vieira Portuense
.
Hier zijn volop drink en eetgelegenheden.



Across

the

Avenida

da India

is

a

nice cozy

neighborhood on the
Rua
Vieira
Portuense
.

Here

are

plenty of

drinking

and

dining options.






De
Rua Vieira Portuense
loopt langs een parkje. De kleurige 16de- en 17de-eeuwse huizen contrasteren met de verder zo imposante gebouwen in Belém.
Rua Vieira Portuense
runs along a park.

The colourful 16th-and 17th-century houses contrast with the so further imposing buildings in Belém

.




Het parkje en beeld
Jardim Afonso de Albuquerque
.
The parc and statue
Jardim Afonso de Albuquerque
.




Vanaf Belém liep ik naast de Taag naar de
Ponte 25 de Abril
(
brug).



From

Belém

I

walked alongside

the Tagus

to the
Ponte 25 de Abril
(
bridge).


Ponte 25 de Abril is een
brug
die gebouwd is door de American Bridge Company, die ook de sterk gelijkende San Francisco golden gate bridge bouwde.
Ponte 25 de Abril is a
bridge
that was built by the American Bridge Company, who also built the similar San Francisco Golden Gate Bridge.


Bij de brug staat het
Cristo Rei
, dit is een 110 meter hoog standbeeld van Jezus Christus. Het standbeeld werd gebouwd in opdracht van de voormalige dictator António de Oliveira Salazar en is geïnspireerd door het bekende Christus beeld in Rio de Janeiro. Het beeld is gemaakt als smeekbede aan God om Purtugal buiten de tweede wereldoorlog te houden.
At the bridge stands the
Cristo Rei
, this is a 110 meter high statue od Jesus Christus. The statue was commissioned by the former dictator António de Oliveira Salazar and is inspired by the famous Christ Statue in Rio de Janeiro. The image is created as a supplication to God to keep Portugal outside World War II.




Vanaf de Ponte 25 de Abril kun je naar Belém lopen of een fiets huren. Het
voet en fietspad
loopt door naar Belém.



From

the Ponte

25 de Abril

you can walk

to Belém

or rent a bicycle

.

The
foot and cycle path
runs through to Belém

.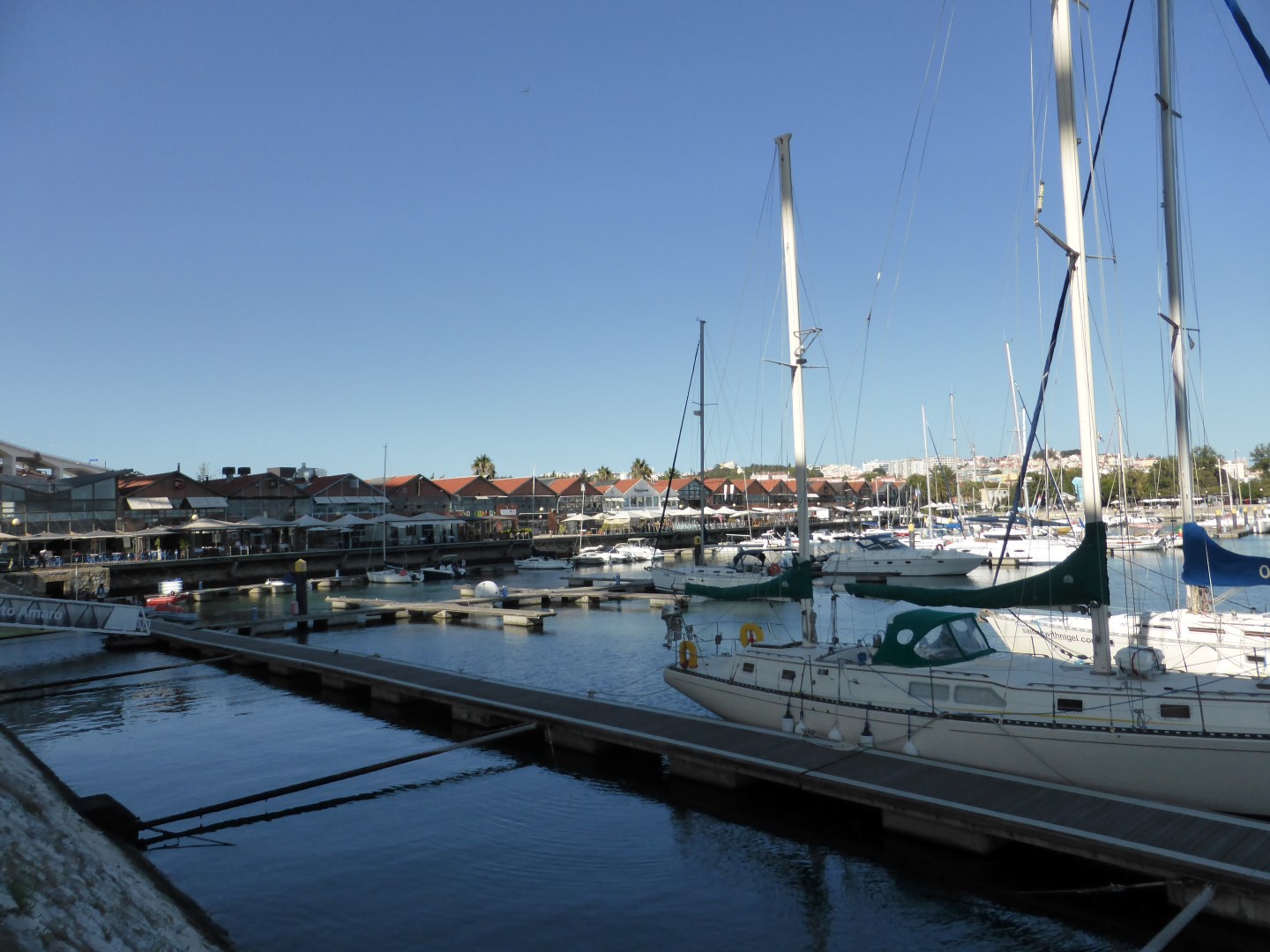 Onder en naast de Ponte 25 de Abril vindt je sportvelden,
een haven
en vele gezellige
restaurantjes
. Dit gedeelte wordt heel vaak overgeslagen omdat veel mensen de afstand tussen Lissabon centrum en Belém te ver vinden om te lopen. Daarom is het echt een aanrader om een fiets te huren zodat je in ieder geval dit soort plekjes niet kan overslaan.



Below

and

next

to the Ponte

25 de Abril

you will find

sports fields,
a harbor
and
many cozy
restaurants
.

This section

is often skipped

by many people because

they

find

the distance between

Lisbon downtown to

Belem

to far to walk.

Therefore, it is

highly recommended

to rent a

bike

so that

you can visit such nice areas at least

.



@MK