CINQUE TERRE


Cinque Terre (vijf landen) is tegenwoordig een 20 km lang nationaal park en staat op de UNESCO Werelderfgoedlijst. Cinque Terre is ook een van de schilderachtige delen aan de kust van Ligurië. De vijf kleine plaatsjes aan de kust zijn Monterosso al Mare, Vernazza, Corniglia,
Manarola
en Riomaggiorre. In deze dorpen, woonden vissers en boeren die net als hun voorouders leefden van visvangst en van wijnbouw op de steile rotsige terrassen. De dorpen zijn in de loop der jaren opvallend weinig veranderd. Tot de 20ste eeuw lagen de dorpen zeer geïsoleerd en waren alleen met de boot of langs de paden te bereiken. De vijf dorpen zijn verbonden met het 12 km lange Sentiero Azzurro, dat langs de kust loopt van monterosso naar Riomaggiorre. Het pad biedt prachtige uitzichten. Het beroemdste deel is de Via dell'Ámore (liefdespad), tussen Riomaggiorre en Manarola.

Cinque Terre (five countries) is now a 13 mile long national park and is a UNESCO World Heritage Site. Cinque Terre is one of the most scenic parts of the coast of Liguria. The five small towns on the coast are Monterosso al Mare, Vernazza, Corniglia,
Manarola
and Riomaggiorre. In these villages, fishermen and farmers who lived like their foreparents lived from fishing and vineyards on the steep rocky terraces. The villages has changed little remarkably over the years. Until the 20th century, the villages were very isolated and only accessible by boat or along the paths. The five villages are connected to the 8 mile long Sentiero Azzurro, which runs along the coast from Monterosso to Riomaggiorre. The trail offers beautiful views. The most famous part is Via dell'Amore (path of love) between Riomaggiorre and Manarola.
MANAROLA
Wij hadden de Cinque Terre tour geboekt bij Viator. Viator werkt samen met de organisatie Walkabout die de looptochten naar Cinque Terre organiseert. De tour en de organisatie waren geweldig. Als ik ooit weer in de buurt ben zal ik zeker weer een tour boeken bij Walkabout. De bus reis vanuit Florence duurt ongeveer 2 uur (natuurlijk ben je afhankelijk van de drukte op de weg) en eenmaal aangekomen in Cinque Terre zet de buschauffeur je af in het plaatsje
Manarola
waar je de reis te voet of met de trein verder volgt.


We had booked the Cinque Terre tour with Viator. Viator is working with the organization Walkabout that organizes trips to Cinque Terre. The tour and the organization were great. If I'm ever in this area again I will definitely book a tour at Walkabout. The bus trip from Florence takes about 2 hours (of course, you are dependent on the traffic on the road) and once we arrived in Cinque Terre, the bus driver dropped us in the town of
Manarola
where you travel by foot and train to continue your tour.
Manarola
is de op een na kleinste en oudste plaatsje van Cinque Terre.


Manarola
is
the
second smallest
and
oldest
village
of Cinque
Terre.
Het lokale dialect is het Manarolese, en verschilt van de dialecten in de omgeving.



The

local

dialect

is

Manarolese

,

and differs from

the

dialects

in the area.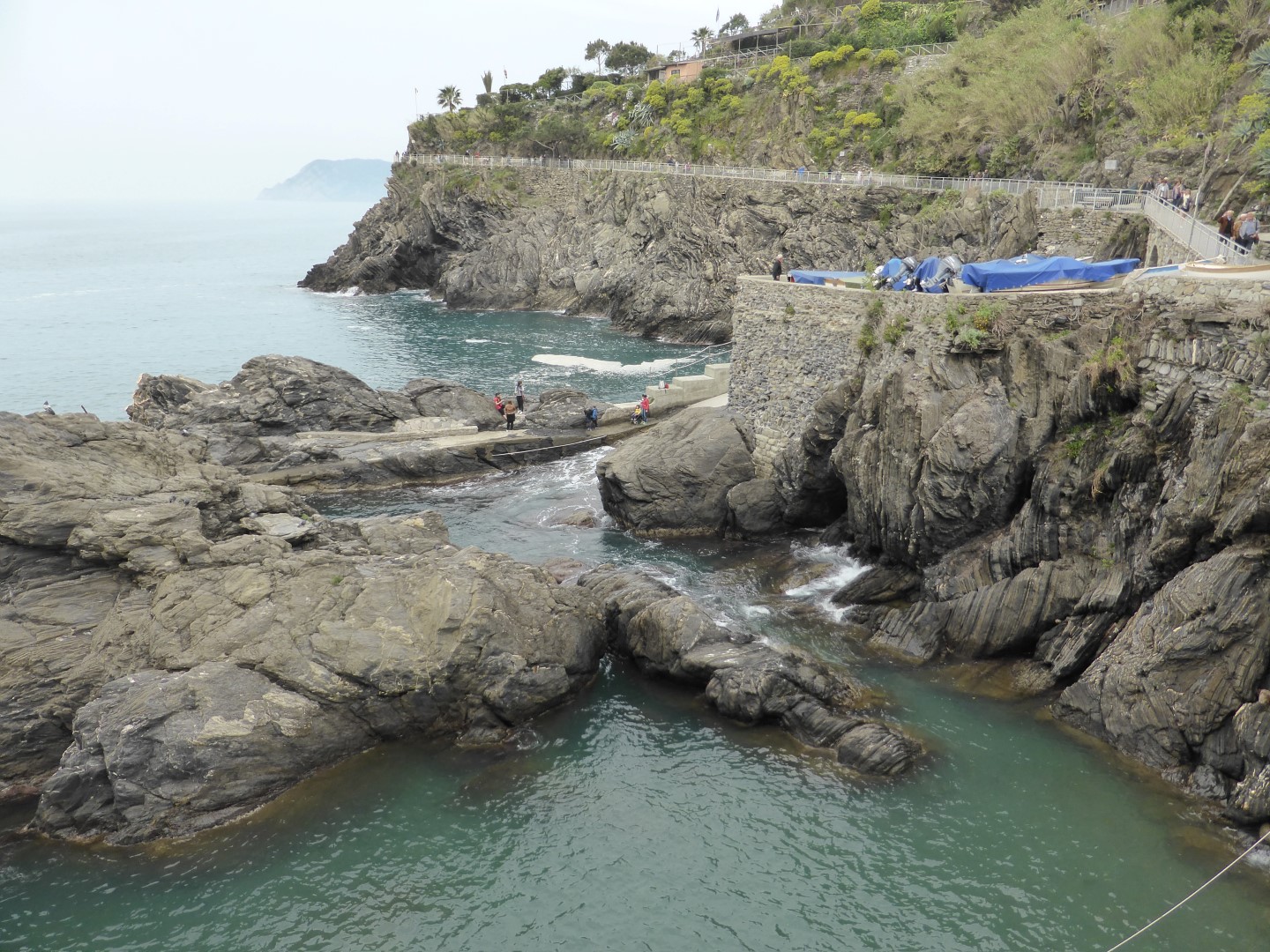 Manarola's
primaire bronnen van inkomsten waren traditioneel de visserij en wijnproductie. De plaatselijke wijn Sciacchetra, is zeer bekend, en werd reeds in Romeinse tijden geprezen. Recentelijk werden
Manarola
en haar buursteden bekend als toeristische attractie, vooral in de zomer. Het wandelpad tussen
Manarola
en Riomaggiore wordt Via dell'Amore, "liefdespad" genoemd.
Manarola's
primary sources of income were traditional fishing and wine production. The local wine Sciacchetra, is very well known, and has been praised in Roman times. Recently,
Manarola
and its neighboring cities were known as a tourist attraction, especially in the summer. The walking trail between
Manarola
and Riomaggiore is called Via dell'Amore "the path of love".
Het treinstation van
Manarola

.
Je kunt met de trein alle plaatsen van Cinque Terre bezoeken. Wij pakten de trein naar Corniglia.



The train station

of
Manarola
.
You
can take the train
to visit
all places
of Cinque Terre.
We
took the
train
to Corniglia.
___________________________________________________________________________________

Corniglia
Deze plaats, gebouwd hoog op een bergkam, 100 m boven een mooi en beschut strand, werd door de Romeinen
Cornelia
genoemd. De geschiedenis van het strand staat helemaal los van het dorp boven, dat altijd een landbouwcentrum is geweest.
This place
, built high on a mountain ridge, 100 meters above a beautiful and sheltered beach, was named by the Romans
Cornelia
. The history of the beach is completely separate from the upper village, which has always been an agricultural center.
De lokale wijngaarden produceren beperkte hoeveelheden witte
Cinque Terre
en Sciacchetráwijn.
The local vineyards produce limited quantities of white
Cinque Terre
and Sciacchetrà wine.
Vanaf Corniglia vervolgde wij onze reis te voet. Het wandelpad loopt helemaal door naar Vernazza.
From Corniglia we continued our journey on foot. The trail goes all the way to Vernazza.
Deze wandeltocht is zeker de moeite waard. Maar als je slecht ter been bent zou ik deze wandeltocht niet aanraden. Het pad loopt niet recht en je moet heel vaak de berg beklimmen en afdalen. Als je wel goed ter been bent zorg ervoor dat je goeie wandelschoenen draagt met een stevig profiel. Want met schoenen met gladde zolen of slippers kom je niet ver tijdens deze wandeltocht.
This hike is definitely worth it. But if you have mobility issues I would not recommend this hike. The path is not running straight and you have to climb and walk downhill the mountain very often. If you're okay with walking make sure you wear good walking shoes with a solid profile. Because with slip shoes and flip flops you will get not that far during this hike.
___________________________________________________________________________________

Vernazza
Met zijn kleurige huizen rond een inham is
Vernazza
de enige plaats in de Cinque Terre met een haven; deze was al in de oudheid in gebruik.
With its colorful houses around an inlet

Vernazza

is the only place in Cinque Terre with a port; it was already in use in ancient times.
De
haven
heeft
Vernazza
tot het rijkste
dorp
gemaakt in het gebied, terwijl de combinatie van de omgeving en de architectonische pracht het ook tot de mooiste plaats van de Cinque Terre maakt.
The
port
has

Vernazza

made the richest
village
in the area, while the combination of the environment and the architectural splendor also makes it the most beautiful place of the Cinque Terre.
___________________________________________________________________________________________
Monterosso al Mare


Monterosso al Mare
is verdeeld in twee afzonderlijke
gedeeltes
: de oude stad en de nieuwe
stad
. De twee gebieden worden gescheiden door een tunnel die geschikt is voor voetgangers en de weinige auto's in de stad.



Monterosso al Mare

is divided into two distinct
parts
: the old town and the new
town
. The two areas are divided by a single tunnel that caters to pedestrians and the very few cars in the town.




Het strand van
Monterosso
loopt langs het grootste deel van de kustlijn en wordt goed gebruikt door toeristen en de lokale bevolking. Het strand is het enige uitgebreide zandstrand in Cinque Terre. Monterosso is een klein stadje dat in de zomermaanden wordt overspoeld door toeristen.

The beach at

Monterosso

runs along most of the coast line and is well used by tourists and locals. The beach is the only extensive sand beach in the Cinque Terre. Monterosso is a small town that in the summer months is overrun by tourists.


Het gebied is beroemd om zijn vele citroenbomen die in heel Monterosso te vinden zijn. Het staat ook bekend om zijn witte wijnen, druiven en olijven.

The area is famous for its many lemon trees that can be seen throughout Monterosso. It is also renowned for its white wines, grapes, and olives.
___________________________________________________________________________________

Riomaggiore


Vanaf Monterosso al Mare namen wij de
boot
naar
Riomaggiore
.



From

Monterosso al Mare

, we

took the
boat
to
Riomaggiore
.


Riomaggiore
is het meest oostelijk gelegen dorp van Cinque Terre. Riomaggiore is het hoofdkwartier van het nationale park en heeft twee rijen hoge smalle huizen en vele visrestaurants.
Riomaggiore
is

the easternmost

village

of Cinque Terre.

Riomaggiore

is the headquarters of

the national park and

has two rows of

tall narrow

houses and

many

seafood restaurants.
De
huizen
zijn geverfd in de typische Ligurische kleuren en hebben het typerende torenhuis kenmerk, dat wil zeggen dat ze hoog gebouwd zijn, met wel drie of vier verdiepingen.
The
houses
are painted

in typical

Ligurian

colors,

it has the character of a

typical

tower house

, meaning

,

they are built

high,

with

three or

four floors.
De entree van deze huizen is op de begane grond, maar ook aan de achterkant op een van de hogere verdiepingen, dit dankzij het hoogteverschil van de omgeving.

The entrance of these houses is at ground level, but also at the back on one of the higher floors, because of the height of the area.


Vanaf
Riomaggiore
kun je het pad de Via dell' Amore (pad van de liefde) bewandelen richting Manarola. Dit pas is rond 1920 aangelegd en is uitgehakt in de steile kliffen, en is maar 2 km lang en gemakkelijk te belopen. Het uitzicht is schilderachtig en adembenemend.

From
Riomaggiore
you can take the path Via dell 'Amore (Path of Love) to Manarola. This path is created around 1920 and is carved into the steep cliffs, and is only 1,3 miles long and easily reachable. The view is scenic and breathtaking.
Ik vond
Riomaggiore
het mooiste dorp van Cinque Terre.

I found

Riomaggiore

the most beautiful village

of

Cinque Terre.



@MK